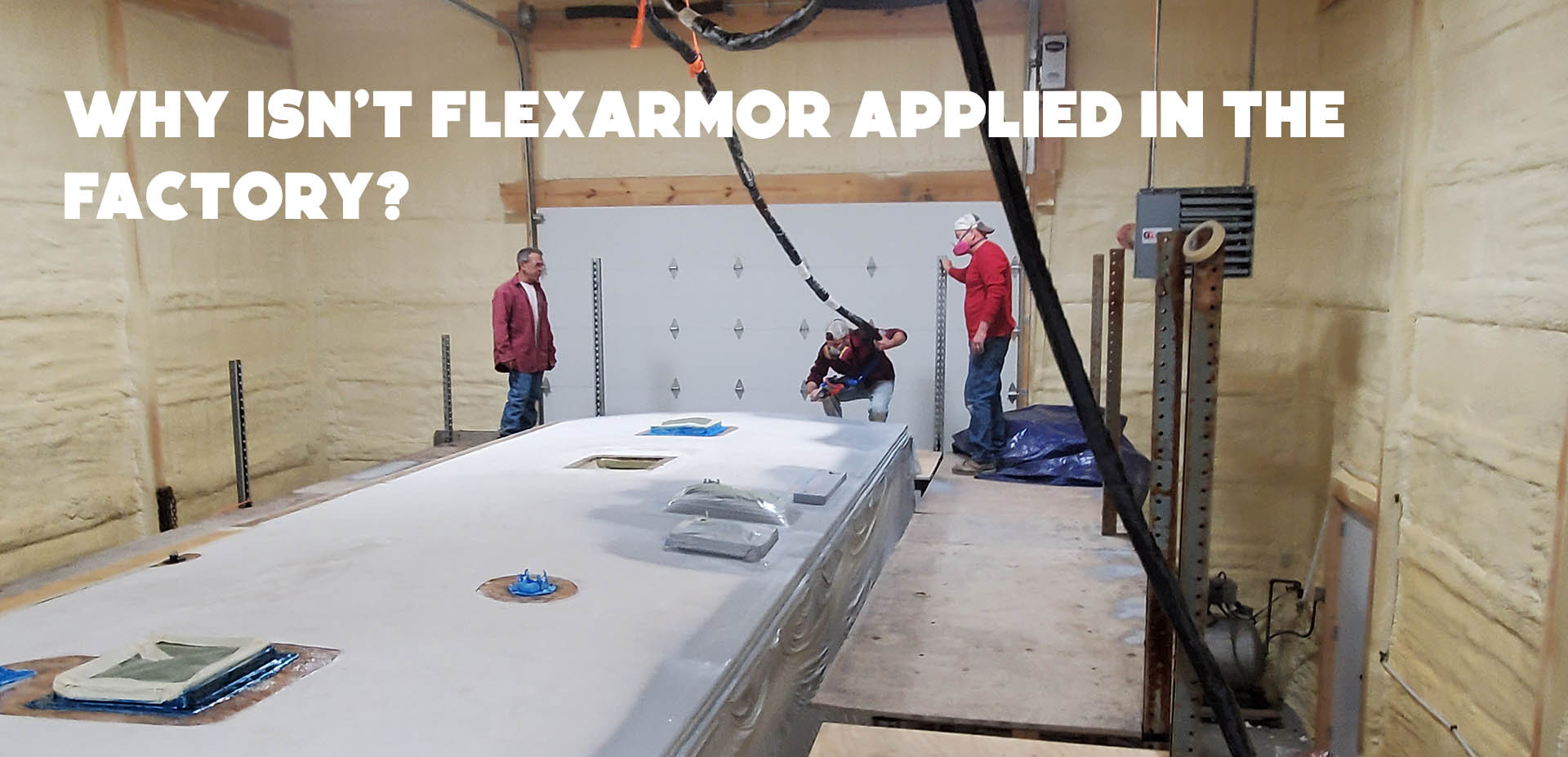 We often get the question from our customers about why manufacturers don't just apply our roofing system, or something similar, at the factory. While we can't speak for every manufacturer, we have identified a few key reasons that restrict our ability to break into that side of the market. While we would love to have our roof on every new RV leaving the factory, price and time are the two things that keep us from partnering with manufacturers.
The Price of FlexArmor being installed in the factory
Our chemicals and process cost significantly more than the raw materials required to install a rubber roof onto a factory-new camper. While in the long term it's worth it from a customer point of view, increasing from a few hundred to almost a thousand in terms of just raw materials is a huge leap, not including specialized training. While for most customers we are cheaper than a new rubber roof, that is often due to price inflation, as most dealerships would rather get you in a new camper than to do a roof job. Just the rubber membrane and adhesive is fairly cheap, in the range of 200 to 300 for raw materials, while our raw material cost is closer to 1,200 once you factor in both the coating and prep chemicals.
The Time it would take to install Flexarmor in the factory
As most of our customers and potential customers know it takes us two and a half days to install one of our roofs. While that time frame could be shortened on the factory scale, as they wouldn't need to remove old components or remove caulking, it still takes far longer than it takes to install a rubber roof. At the factory level membrane installation takes a matter of minutes not hours. Even if you were to shorten our process with pre-prepared components and a streamline process, the shortest you could condense it to is 12 hours or so. This large gap between 15 to 20 minutes to 12 to 13 hours is the other major hurdle of getting our roofs put on at the factory level.
In addition to this time difference, we also pride ourselves on our attention to detail and workmanship that goes into every one of our roofs. While every manufacturer is different, we have seen many things done by factory employees that reduce the integrity of their products for the sake of a few minutes. While we know that this is not a common issue, we know that it happens enough that we are hesitant to allow a manufacturer to apply our roof without confidence that they would maintain the level of quality that our customers expect from each and every roof we send out.
Since we specialize in doing this roofing system, we are still able to make reasonable profits with narrower margins and this difference in price isn't as harsh in our scenario. But when viewing a factory's profits and efficiency these factors are far more impactful.
Are you new to FlexArmor? Trying to determine if this is the right choice for your RV? We have a few articles that might help you make your choice: