Give your customers the security of our 100% leak proof guarantee.
FlexArmor is a game-changer in the world of RVs. It's a revolutionary sprayed system that was developed to tackle a major flaw in RV construction—the caulking seams on the roof. Whether you own an expensive class-A motorhome or a compact travel trailer, they all share the same weak point: the roof. FlexArmor is the solution to all your RV roofing needs.
Who is RV Roof?
With over 20 years of industrial spray coatings, RV Roof founder David Adair took the science of polyureas and began creating the right product and process to address the needs of recreational vehicle roofs. This led to RV Roof's exclusive development of FlexArmor, a 100% leak-free roofing material guaranteed to outlast your RV.
The specialized FlexArmor formula combines all the characteristics needed to create a strong, long-lasting RV roof. It is extremely flexible and doesn't harden in cold temperatures – it's even tough enough to handle hail and collisions with low-hanging branches and buildings.
FlexArmor Authorized Applicator Benefits
We're Looking For Shops Like Yours!
RV Roof is expanding the network of authorized FlexArmor locations to meet the demands of our consumers. The FlexArmor name is established in the RV community, known for its quality, reliability, and performance record.
Many owners proactively invest in FlexArmor for their units to avoid future roof problems. Thus, service centers and dealerships that made the decision to become authorized applicators of FlexArmor have seen significant increases in their sales revenue.
Most active locations, depending on crew and goals, complete 1-4 roofs per week.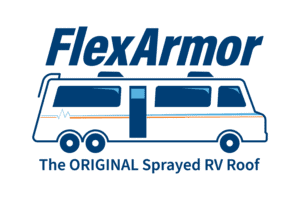 RV Roof Supports Distributors
RV Roof provides structure, support, and ongoing training for all authorized locations.
If you are interested in becoming a FlexArmor authorized location, you can request our Authorized Applicator Information Package below or call 904-830-5445.
Advantages of being an applicator:
Exclusive access to the FlexArmor product and process
Access to 20+ years experience and knowledge
Quick turnaround
Step-by-step manuals
Area protection
National advertising
Web-based marketing
Marketing support, such as pre-designed ads, banners, displays, and brochures
Brand recognition in the RV industry
Product has a proven track record
High customer satisfaction feedback
Request Authorized Applicator Information Package