Lifetime No Leak Guarantee.
The Only Professionally Sprayed On Seamless Watertight Roof With Unmatched Thickness.
Say Goodbye To Yearly Recaulking & Repairs
No other RV roof sealants, coatings or products compare to FlexArmor.
It's the one and only solution that provides: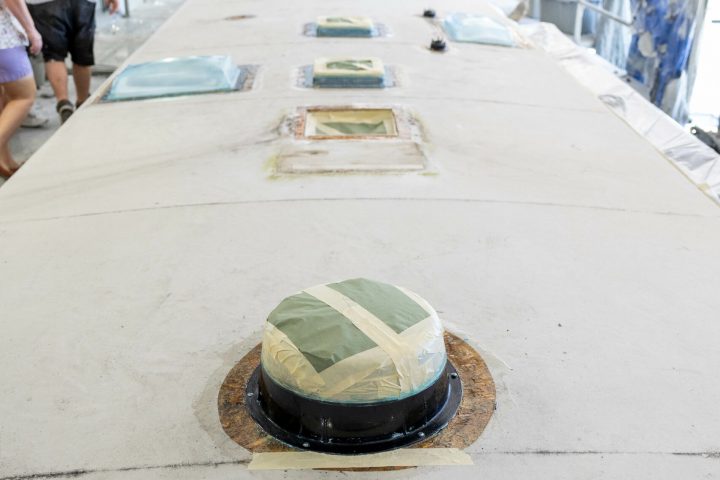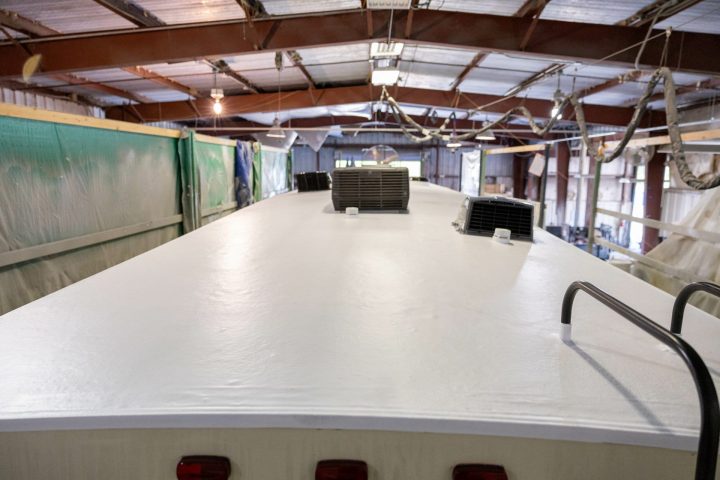 Your Smart Choice For A Worry-Free RV Roof
Designed exclusively for RVs and applied in just three days, FlexArmor is the ultimate RV roof solution that never needs to be maintained. Join 20,000+ owners like you and enjoy your RV worry-free.
Protecting Your RV Roof Is Easy With Certified Applicators Across the U.S.
More RV Proof:
Hear From Our Happy Customers
Excellent
4.8
★
★
★
★
★
Based on 138 reviews from
review us on
Michael W
★★★★★
Great service and fast ! Very helpful with all my questions
Dennis C.
★★★★★
Roxanne S.
★★★★★
Benita C.
★★★★★
We had a Flex Armor roof put on at New Horizons RV in Junction City Kansas last month. Very impressed with Chris Kaiser and his crew. So pleased with the whole process from scheduling to visiting the factory and then the actual roof application experience.
Nancy N.
★★★★★
FlexArmor in Keystone Heights, FL went above and beyond to help us with our roof. We were traveling and pulled in on a Friday, without an appointment, and they immediately came out and went to work. They quickly identified the problem and solved it for us. Amazing service!!! Can't thank you enough!
Stephen A.
★★★☆☆
So far not impressed. Just did not seem as if they were interested in my business. We'll see maybe it was just me. If things change I will update the review.
Brian B.
★★★★★
Just had my roof done up with FlexArmor by Colorado RV Roof and I have to say the result is transformative...Kevin and his crew did a wonderful job and went above and beyond to give me a great result. My 2007 trailer was close to worthless unless I had the roof replaced and had quotes for $10000 to do the work. FlexArmor was a fraction of that amount and is 100% guaranteed for life - including fully transferable. Other options are not really options in my opinion - FlexArmor is THE way to go, and CO RV Roof is well worth the drive.I will try to add some photos later. Thanks again Kevin and Team! Brian
PeeWee H.
★★★★★
WE FULLTIME IN A 2020 JAYCO 5TH WHEEL. A YEAR AGO THE SEAM WHERE THE RUBBER ROOF MATERIAL AND FRONT CAP MEET SEPARATED. MY ATTEMPTS TO PATCH THE SEAM WORKED UNTIL IT DIDN'T. CONTACTED TRAVELLERS DESTINATION IN PASCO WASHINGTON AND SET UP THE REPLACEMENT. 3 DAYS LATER WE HAD A NEW ROOF GUARANTEED TO NOT LEAK AND IT LOOKS FANTASTIC. DOUG SHOCK AND HIS TEAM DO GREAT WORK. THEY HAVE MY FULL SUPPORT AND ENDORSEMENT. IF YOU'RE IN THE PACIFIC NORTHWEST THAT'S WHERE GO AND THEY ARE WHO YOU SEE. YOU WON'T BE DISAPPOINTED.
Linda A.
★★★★★
Came to pick up our motor home. We had repair work done after an accident. The repairs were done quickly, we had gone home as camping World took months. FlexArmor let us leave it in their lot for over a month until we could pick it up.
Kerry T.
★★★★★
Timothy S.
★★★★★
Bob S.
★★★★★
Lifetime RV Roof just outside of Kansas City Missouri replaced our roof and did a terrific job. They really took great care in doing their work and were really great to work with. I can't recommend Lifetime RV Roof highly enough. The product is amazingly durable and the lifetime warranty is unsurpassed. It solved all our RV roof issues and did away with the maintenance and caulking. No more RV roof worries.
tom M.
★★★★★
Simply the best money you can spend on your RV. I waited a year to review because I wanted to make sure it really worked. It is still absolutely perfect. The peace of mind you will have is worth every cent. In fact we just sold that camper yesterday and the lifetime roof was a major selling factor!
Hello W.
★★★★★
Fantastic product, gave new life to our 18 year old Class-A Coach. Money well spent, will keep our coach nice and dry as long as we will own it. Stop wasting your time and money every year on temporary patches.
Rodney M.
★★★★★
kirsten J.
★★★★☆
Great product. Great service. Highly recommend.
Jack S.
★★★★★
new roof coating. great job.
Rod B.
★★★★★
In Mar. of 2020, I had the roof replaced on our 40' RV at the RV Rood Atlanta location. The process went very smoothly and as planned. The finished product was very attractive and rode much quieter. The RV was sold later in the year, so I am unable to make a comment about the longevity of the installation, but I have not doubt that it would be very durable. I did research before I selected this product and would recommend to anyone considering replacing the roof on their RV.
jmfreeze2
★★★★★
I love my new RV roof. The Greensboro, NC office was great to work with. After an unfortunate encounter with a tree limb I needed a new RV roof on my fifth wheel. Eric was great to work with. I am happy I don't have to worry about caulking on the roof anymore. The only thing I don't like is I have to take it back if anything needs to be replaced on the roof. But, I think it is worth the takeoff. I had them install some extra threaded studs to the roof in case I wanted to add something.Very satisfied with the roof so far.
Matthew L.
★★★★★
Too much to say...but thank God for these guys! Made our RV (class C) dry again....was at one point looking to buy a new one til we came across their booth at an RV show in south Atlanta. On time, at price quoted, CUSTOMer service, worked with our fluctuating schedule.
Sheldon F.
★★★★★
I had a FlexArmor roof put on my Mallard in Greensboro and it is fantastic. The team did a great job and got it in and out quickly. Everything was up front pricing, easy to deal with. My roof is still fairly new ~15 months. Still looks great. Just jump up and wash it and it looks dang near new. I love the piece of mind of no more caulking joints and all that! If your thinking about, just go do it. No more Roof Leaks.....
James E.
★★★★★
The replacement process was seamless and it looks awesome too!!
David K.
★★★★★
William C.
★★★★★
Spray on "Flex Armor" roof system applied. Well pleased!
J Michael G.
★★★★★
Service was great! We have had our new roof since July 2022 and everything is going great., no problems of ant sort.
Sign Up for Our RV Newsletter
Sign up for our email newsletter for the latest RV news, travel inspiration and helpful guides to keep your RV in tip top shape.